Production planning
A.T.L.A.™ uses modern Enterprise Resource Planning software across its business, which allows it to deliver on time in 98-100% of cases.
Production progress is monitored in real time and any deviation is automatically reported to the managers of the different business sectors involved in order to mitigate any delays.
A.T.L.A.™ applies the Toyota Production System methodology, which ensures lean production and greater productivity, and the high quality of our products is guaranteed by the professionalism of our staff and the application of the latest process control technologies.
2D & 3D CAD-CAM design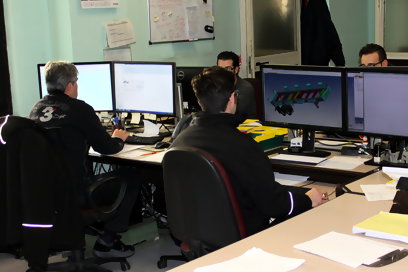 A.T.L.A.™ technical and production departments, with high-performance workstations, advanced software and extensive professional experience, analyze the components to be realized and identify optimal working cycles in order to obtain the highest quality product.
Our technical personnel use 2D CAD / CAM to elaborate cutting and bending processes to optimize productions times and use of materials.
Modern 3D CAD / CAM design is also used to elaborate metal structures and define the characteristics and dimensions of the pieces to be produced with multiple processing technologies.
Furthermore, 3D design facilitates off-line programming of bending and automatic welding to be performed by large robots.
Warehouse
A.T.L.A.™ has a sizeable and diversified stock of quality, certified metal sheet and other steel and metal products. Our management of the materials warehouse conforms to best European standards of production and has been optimized with the addition of vertical automated warehousing, which, in addition to guaranteeing the full traceability of materials, facilitates the handling of sheet metal with utmost speed and safety.
The blanks are stored in a sheltered area and are identified and catalogued based on quality, thicknesses and size. The assortment includes:
Sheet metal from coils in thicknesses ranging from 1.5 mm to 15 mm, and widths of up to 2000 mm x 6000 mm.
Sheet metal plates in thicknesses ranging from 8 mm to 100 mm, and widths of up to 3000 mm x 12000 mm.
Extra-thick sheet metal plates in thicknesses ranging from 110 mm to 350 mm, in various formats.
The selection and quantities offered by our warehouse are managed using a sophisticated computer system, which allows us to optimize the minimum stock levels in accordance with historical requirements and current customer requests. Moreover, the product rotation is managed on a first-in/first out basis.
The sheet metal is handled using modern bridge cranes (from 3 to 30 tons.) equipped with magnetic systems that provide for fast and secure movements without altering the flatness of the product.
The qualities available for structural steels are in compliance with the EN 10024 standard:
S235JR - S235JO - S235J2 +N
S275JR - S275JO - S275J2 +N
S355JR - S355JO - S335J2 +N
S355MC - S420MC
P265GH - P355GH
other qualities are available upon request.
The warehouse is also stocked with AISI 304 X5CrNi18-10 and AISI 316 L grade stainless steel sheet metal, in accordance with the standard EN 10088-2-3: 2005.
Production facility and vehicles
A.T.L.A.™'s production facility is comprised of a modern 10,000 m2 covered factory located on an ample 30,000 m2 lot. It has large internal an external areas for manoeuvring, as well as for loading and unloading the steel products.
The production facility is equipped with several bridge cranes, with capacities ranging from 3 to 30 tons, which employ modern magnetic systems to lift the unprocessed and finished products. The company also has numerous electrical forklifts for indoor use, as well as diesel models for outdoor use.
A.T.L.A.™ also has two trailer trucks available, which are used to deliver the finished products to the customers.
Identification and product packaging
Using correct and standardized identification methods, A.T.L.A.™ organizes its internal production activities is such a way so as to maintain the traceability of the steel works' references during all of the different processing phases. The transformation process is monitored during all of the various phases, including the storage of the raw materials, as well as cutting, bending, welding and packaging operations: thus, the identification codes for the processed parts always corresponds to that of the steelworks that produced the raw material, which is made up of a lot, a casting and a rolling plate. This internal procedure ensures that the material, after being processed and delivered to the final customer, effectively corresponds to that which is indicated in the quality certificate issued by the raw steel manufacturer, which is delivered along with the final product.
During the various phases, the elements are identified using production labels, according to standards defined in the company's quality manual, and in compliance with the ISO 9001:2008 standard.
Finally, the product is securely packaged for transport and, where indicated within the order specifications and approved by our sales department, is also protected from the atmospheric elements and identified using the official language of the country of destination.